ILARIA
I WILL MAKE YOU STRONGER FOR LIFE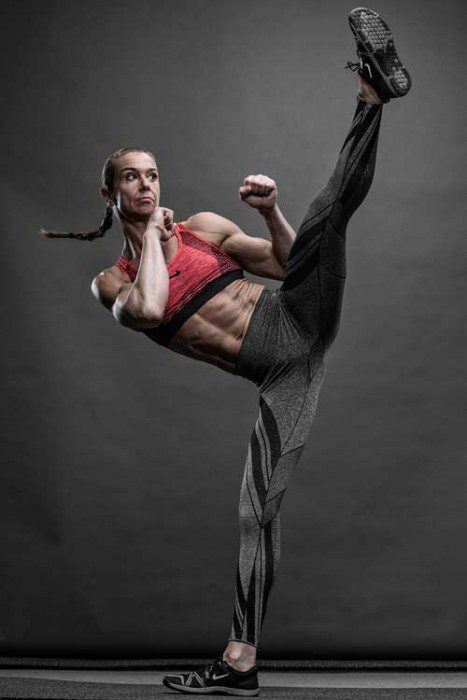 Ilaria Montagnani is an internationally acclaimed fitness expert who founded Powerstrike in 1995. Inspired by the idea of pushing physical limits to ignite inner strength, she pioneered the concept of bringing martial arts, her own karate and kickboxing practice, into Group Fitness, creating groundbreaking programs like POWERSTRIKE Kickboxing and Forza, – aptly named: In Italian, it means "strength."
Media outlets from around the world have taken notice. Ilaria's workouts have been featured on The Today Show, Good Morning America, The Martha Stewart Show, The Dr. Oz Show, The Tyra Show, and CBS and ABC Evening News, among many others. The Wall Street Journal called her a "leading force" in the fitness world, and New York Magazine labeled her one of the city's top fitness gurus. In 2017, Ilaria received the Lifetime Achievement Award from Equinox Fitness for being the top group fitness instructor in the country.
Ilaria's journey to the top of the fitness world began over 20 years ago. On a mission to learn English, she came from her native Italy to New York and quickly discovered more than just a new language. One of her most meaningful discoveries was karate, which she began studying with intense determination. After pursuing her first black belt, she devoted several years to learning kickboxing and continued studying to perfect Iaido sword training. Ilaria has also been deeply committed to strength training for over 20 years and still challenges herself to break new barriers.
When she's not teaching online classes at her Virtual Studio or at packed studios in New York City, Ilaria travels the world sharing POWERSTRIKE's inspirational workouts. She has trained instructors and developed programs for facilities in the U.S., Mexico, Canada, Japan, Russia, Sweden, Norway, Spain, Italy, and throughout South America. Her workouts can be found on her Virtual Studio, On Demand library and YouTube Channel and she has written a book on her popular Samurai sword workout, Forza.
POWERSTRIKE Inc.
The Company

Founded in 1995, Powerstrike is a globally renowned fitness company whose signature workouts have been hailed by The New York Times, The Wall Street Journal, Shape, The Today Show, and Good Morning America, among many others. The workouts are available in fitness facilities around the world and through the Powerstrike DVD series featuring founder Ilaria Montagnani.
Powerstrike has elevated itself above the fray of come-and-go fitness trends by inspiring hundreds of thousands of exercise enthusiasts and a team of loyal instructors. Called "addicting" and "exhilarating" by those who have tried them, Powerstrike workouts are more than just a series of challenging exercises. Rather, they are carefully choreographed routines that teach physical discipline to inspire mental strength.
Powerstrike helps people unleash and empower their everyday warriors – their inner resources for pushing past and even enjoying the challenges of daily life. The demanding physical exertion required by Powerstrike workouts conditions participants to tackle other areas of their lives with equal fortitude.
In its 25 years, Powerstrike has already made its workouts available throughout the U.S., Mexico, Canada, Japan, Russia, Sweden, Norway, Spain, Italy, and several countries in South America. The enthusiastic response from trainers and exercisers demands further expansion. Powerstrike is committed to continually growing its dedicated team of instructors in hopes of extending its mission to as many people as possible.